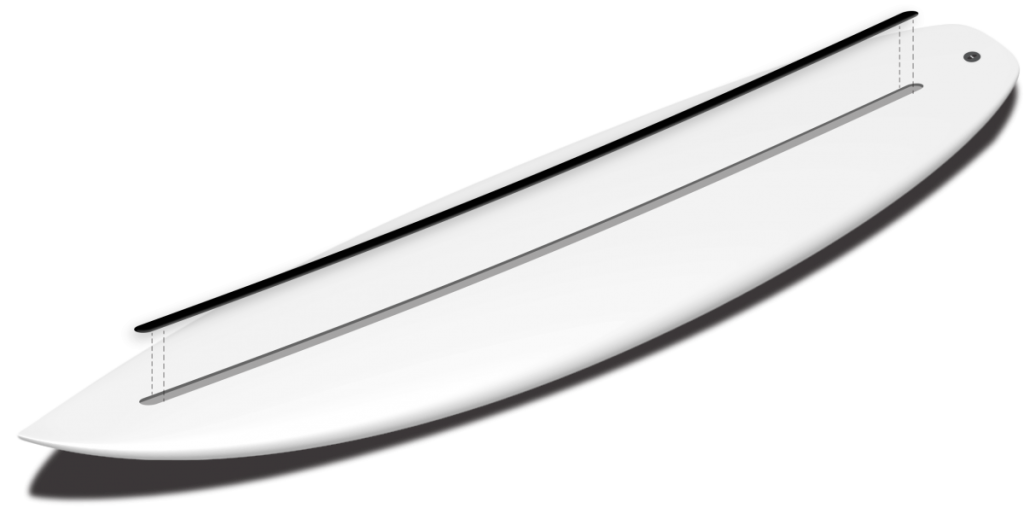 Spinetek® – Die Evolution der Epoxy Surfboards
Viele von euch werde vielleicht die Marke Shapers™ nur als Anbieter von Finnen für Surfboards kennen. Aber die Wahrheit ist, dass, wie der Name schon sagt, dass dieses Unternehmen sich mit der Herstellung und den Vertrieb von Materialien, Werkzeugen und alles Notwendige für den Bau von Surfboards widmet und das seit 25 Jahren.
In den letzten Jahren hat Clayton zusammen mit Shapers eine neue Bauweise für Surfboards entwickelt. Es ist patentiert unter dem Namen – SPINE-TEK® – auf dem Markt. Ein Rückgrat mit sehr guten mechanischen Eigenschaften, das in einem Epoxy-Blank gelegt und einlaminiert wird. Es ersetzt den Stringer oder verschiedene Streifen von Karbon-Gewebe. Dadurch erhalten die Boards eine sehr gute Responce im Flex.
Das traurige daran, Channel Island Surfboards war so begeistert von den Tests, dass CI exklusiv die gesamte Produktion des ersten Jahres erworben hat.
Der einzigste andere Shaper auf der Welt, der diese Technologie im ersten Jahr nutzen kann, ist Clayton. In den vergangenen Jahren hat er in Australien mit Shapers Australia™ diese Technologie perfektioniert und weiter entwickelen können. Es wurde alles neu definiert, was mit der Herstellung von Epoxy-Brettern gebraucht wird. Vor allem aber die Anpassung seiner Shapes an die neue Materialien (Epoxy). Während dieser Zeit arbeite Clayton Hand in Hand mit den Leuten von Shapers und half ihnen diese Technologie auf dem Markt zu bringen.
Clayton Surfboards is very excited to announce the Solar model, an industry first to be utilising the SPINE-TEK® reflex technology. SPINE-TEK® is a patient construction that for the first time in surfboard manufacturing focuses on Longitudinal and Torsional Flex, which creates more pop , speed, drive and flow. The other innovative attribute is the Spine Tek provides ultimate strength that is not seen before without stiffening the board or giving a negative Flex.
Zu den Boards